2017-05-04
Dashi Kitchen Manmaru started
Hello.   I'm Aki Kawaguchi  of  Dashi Kitchen Manmaru.
"Dashi Kitchen" means as "the kitchen where you can experience Dashi-soupstock".
Dashi is Japanese soupstock and it is basis of Japanese food, washoku.
It is made with dried ingredients such as dried bonito,dried Kombu(a kind of seaweed), dried Shiitake mushrooms, and dried seafoods.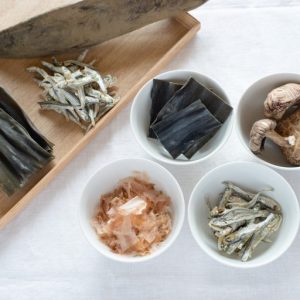 It takes so much time to make  dashi ingredients, and dashi has so many historical and cultual stories.
Additionally,when you see those ingredients, you will  find Japanese unique traditional works.
You can eat Japanese foods in Japanese restaurant and taste Dashi and Umami with them.
But do you know  how to make Japanese foods, especially dashi  and how to cook them?
Dashi Kitchen Manamaru will serve you "dashi experience" with real dashi ingredients.
I am a dashi-somelier, a certification of dashi, and will guide you to  "dashi world" at  my house.
Please enjoy dashi lesson and cooking Japanese dashi soup.
Flow of the lecture
–  explain about washoku(Japanese food) ,  dashi and dashi ingredients and taste them.
–  show you how to make dashi
–  make dashi by yourself and make miso-soup or Osumashi (dashi-soup)
–  eat Japanese home-style cooking with soup you made
I use real and fresh ingredients for all foods.
Please request if you need foods for vegan or some special care.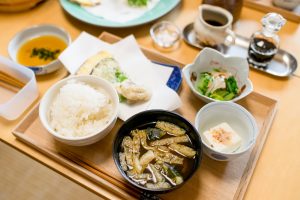 ( the contents may change from the picture)
Date: May 18th (Thu),2017     11:00~13:30
Place: Ishi-cho,Tokushima ( (I'll inform you of details after an application.)
Fee: 5,000JPY for 1person ( foreigner)
5,400JPY for 1person( Japanese, with tax)
10,000JPY for 2person
4 people are limited about once
I will hold it from 1 person,
but in case of participation by 1 man, female accompanying, please.
A person of invitation and the sales purpose is declining.
Please contact me as below
Let's enjoy dashi and home-style cooking.
Experience Japan!
Thank you
Aki Kawaguchi
Caution
* I have insurance about an accident in the lecture and an injury. I'll guarantee it in the adaptation, but it can't correspond about adaptation outside. During cooking it, please be careful enough.
If you have any question about it, please ask me so.
*About cancellation,  please tell by 2 days before because I prepare the ingredients for the lesson.
When it's cancellation on the previous day and  the day, a cancellation fee will hang  50 %.
関連記事